In loving memory

of
Roger Snyder
born - 22 Dec 1958 in Hillsboro OR
crossed over - 21 Mar 2005 in his sleep at home at the "Enchanted Cottage"

The Roger Remembrance/Celebration of Life/Gathering will be April 2, 2005 at the Enchanted Cottage - our home - starting at 2:00 P.M. and going until? (Rog would like that.) Please plan to bring your best Roger memories, pictures, jokes and anecdotes to share. Nobody should have to say goodbye to my Boy alone because his leaving has effected many friends very deeply and he would expect us all to support one another. Bring tissues because there is no shame in grief or laughter and bring a potluck dish to share in memory of Roger always making sure nobody was hungry. Bringing an extra bottle of something to leave for later entertaining of Roger's friends would be helpful, too.

Printable Directions --- Photo Memories --- Memory Book

Rog was born 12/22/58 in Hillsboro, Oregon and graduated from Hillsboro High. In addition to bartending for our friends, neighbors, loved ones, (basically anyone who came to the Enchanted Cottage). Rog was a Championship trap shooter even though he always said he was blind in one eye and couldn't see out of the other. A big man in so many ways, he took great pride in being able to do the work of at least two (his boss says four) people. The Big Guy enjoyed barbecuing, camping and hosting any gathering anywhere, anytime. His greatest delight was absolutely drenching his Lovey (Diana) with everything in his heart - unconditional love and tremendous care.

My beloved's huge laugh, wonderful smile and tremendous joy in being on the planet was unlike anything else. Together we shared an amazing, truly "most people never get this blessing in 10 lifetimes" love. His unbelievable Roger hugs, the wonderful feeling folks had just being around him was a gift to anyone whose life he touched. He was and is the kind of man that men want to emulate and women simply wanted to be around because his aura was one of total safety and affection. You will see photos here that we both loved and the one with the Santa hat and the steaming bowl of buffalo wings was his personal favorite of himself. We would look at our wedding and honeymoon photos and just glow at each other. Every day we were surprised to find that, when we thought we couldn't love each other more, we would wake to find that it had surprised us once again. Any of you who met or saw us together know exactly what I'm talking about..

In recent years Roger had become closer to his family and took great enjoyment in the recent weddings of his niece and nephew, and the fun we had at the Snyder family holiday gatherings. He valued spending time with each member of his family more than ever before. He thought, and he was right, that he had finally become the kind of man his father wanted him to be. Like everyone - he loved, he lived, he worked and he had fun. With Roger, though, it was all done with such an appetite for life and such a joyous spirit that everyone was affected. It was his spirit, his heart and his blessing. It still is. We will all carry him with us forever.

Please join all of those who cared about him during the remembrance on Saturday, April 2nd and the 'Enchanted Cottage', and tell anyone that you think might not know and would care to join us, as well. Your presence will be a boon to the Cottage and will bless the memory of Roger, as he would have wanted.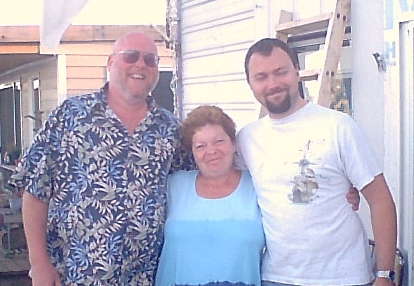 Roger, Diana, and Diana's son Clay

Printable Directions --- Photo Memories --- Memory Book

---

Last update: 30 Mar 2005

If you have any trouble with this site, please let us know and we'll try to fix it. Thanks.
Written in MS Notepad

2005 by Brenna.